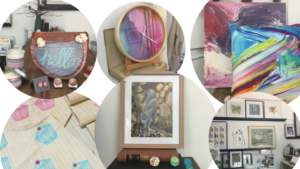 Katherine C Ferguson & Nicola Cowie are co-creators of Guildford's The Artists Nook.
Their work is showcased in their boutique shop in the tranquil Ethel Street Courtyard, just behind the antique shops on James Street.
They also host a variety of intimate boutique workshops for more information and to book your workshop click here. Or create your own workshop here.
Other local artists are also on display including:
Kat Sherwin of Hammered Rabbits
Tammy Mullan of Wild Willow Handmade
Raennette Hendy of Studio Mia
Kristy Scaddan of The Farlands
Naomi Ebert of Nazzy Fusion Art Glass
Lee Collis of Boho Bags
Ashleigh Van Damme of The Travelling Creative
If you are an artisan and you would like to be considered for The Artists Nook please contact us.
Ethel Street Courtyard | Guildford | WA 6055 | Australia
Katherine | 0416 644896
Nicola | 0439 860222
ONLINE SHOP COMING SOON!